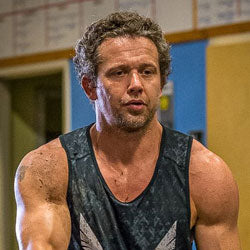 Thomas Tomlo Jr.
Thomas Tomlo Jr.
United States Marine Corps Veteran, 6X USMC Iron Man Award and Cofounder of Virtus Outdoor Group
Biography
Thomas Served in The United States Marine Corps for eight years as a Martial Arts instructor trainer, fitness specialist, and Sensor Operator & raced for the 3rd Force Recon cycling team. He brings over 24 years experience in the coaching field. Thomas is renowned for his conditioning programs and has been recognized both nationally and internationally. He has worked with Professional athletes from a number of professional leagues and organizations including the NFL, MLB and IPFL.  He has worked as the personal coach for former U.S. Secretary of State Dr. Condoleezza Rice, and first daughters to the President of the United States George W. Bush, Jenna Bush & Barbara Bush, numerous Government officials, U.S. Foreign Dignitaries and Diplomatic Security Agents. In addition to his role with HDS, Thomas co-founded CrossFit affiliates, Shirlington CrossFit, CrossFit Merrifield.  He has led the warm-up ceremonies for over 50,000 athletes in the Suzan G. Komen National Race for the Cure as well as the March of Dime March for Babies. 911 Heroes Run, Run For Remembrance and shared the stage with icons like Former World Champion Boxing legend Roy Jones Jr.  Tom currently serves on the advisory board for fitness magazine among others, the selection committee

 
for A Warriors Wish Foundation, the Yellow Ribbon fund and Team Hope For the Warriors.   Tom has played a huge role in growing and developing the Veteran outreach communities all across the country and has committed a huge portion of his time and resources to these men, women and families.