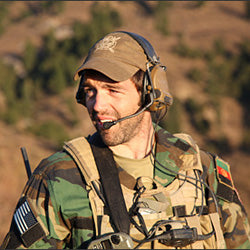 Tristan Hungerford
Tristan Hungerford
United States Army Green Beret, and Cofounder of Virtus Outdoor Group
Biography
Tristan Hungerford is a United State Army Green Beret with over 15 years military experience. As a Virtus Partner & Operator, Tristan brings his far reaching military experiences to the development of apparel and gear that can stand the toughest conditions.
Upon graduating, Tristan successfully navigated the highest attrition rated schools in Special Operations, has conducted multiple combat operations in Iraq and Afghanistan and has received multiple combat medals.
Tristan's vast scope of experience has garnered him notability in communications, underwater infiltration, High Altitude Low Opening, High Altitude High Opening (HALO/HAHO) parachuting infiltration, Close Quarters Combat, Hand-to-Hand Combat, Air Assault Operations, Static Line Airborne Infiltration, Close Air Support (JTAC), Survival, Arctic Survival, and numerous other Special Operations skill sets.
These experiences, plus a genuine passion for the outdoors has made Tristan the perfect partner for developing not only amazing gear, but a brand built on honor and respect. Tristan has always gone above and beyond what's expected and has strived for the highest standards—a trait he brings to the legacy of the Virtus brand.
Tristan and with David Wood, (VOG CEO)  have been designing and testing extreme outdoor and tactical gear together for over two decades.
Tristan grew up in Tennessee and spent his youth in the outdoors where he was actively involved as an Eagle Scout while learning the tools of the survival trade.